Explore and create new avenues in your lead guitar playing.
A FUN Lead Guitar Class that's LOADED with techniques, exercises, and tips.
If you answer YES to any of these questions, this course is your next fun guitar adventure:
Are you looking to get started playing lead guitar?
Are you an experienced lead guitarist who wants to improve their abilities faster?
Are you an advanced/elite guitarist who wants to be challenged and push your abilities to the limit?
Do you want faster picking speed, a richer guitar tone, and more variety when you play leads?
Are you stuck in a lead guitar playing rut and desperately need to get out of it?!
****This class is "progressive" meaning that it is designed to improve you and take you to the next level - for example, a beginner player who masters the exercises in their class will be able to improve to the intermediate level and learn new challenges.****
You can expect to learn the following (depending on your skill level):
BEGINNER-LEVEL GUITARISTS: Become a lead guitarist, learn lead guitar techniques that get you "out of the box" and have you playing awesome sounding leads in no time. Develop your ear for lead guitar and also practice exercises that will take you from being a beginner to playing faster, smoother, and cleaner.
INTERMEDIATE-LEVEL GUITARISTS: Learn the next-level set of techniques, as well as exercises, that can unlock more speed, precision, and inspire you to create new and exciting leads that you will now have the flexibility to create. With these new techniques, they will challenge you to become an advanced lead guitarist who has all of the tools to WOW a crowd and write epic guitar solos.
ADVANCED-LEVEL GUITARISTS: Looking for more lead guitar inspiration and new techniques? Looking to be challenged? Play along with difficult lead playing exercises and re-inspire your playing with high-energy rockin' techniques that elite guitarists use on a regular basis. Understand the fretboard in a new way and access newfound speed and clarity of tone.
WHAT ELSE WILL I LEARN?
TONS of things to sharpen your abilities:
30+ Lead Guitar Techniques to inspire you to play amazing guitar solos.
15 tabbed guitar exercises to train you to play faster, cleaner, and better than ever before.
Own the fretboard and play leads "outside of the box"!
For beginners - how to play lead guitar!
For experienced players - how to continue mastering your lead guitar!
What notes to bend - and notes to avoid when playing scales.
and MANY MORE benefits to enrolling in this course!
When you finish this course, my goal is for you to notice a dramatic improvement in your guitar playing ability. You are going to be faster, cleaner, and impress your friends as well as the audience. This is the lead guitar player's simple guide to improvement!
I look forward to rockin' out with you in class!
Tom Saguto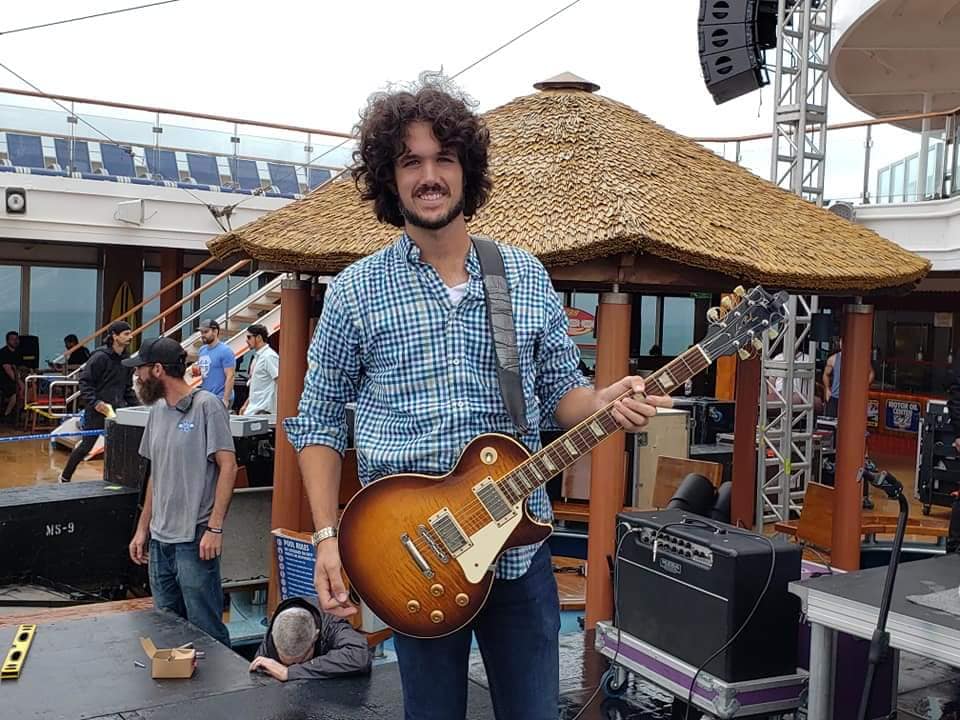 Meet your rockin' guitar instructor,
Tom Saguto!
I am a guitar tone junkie, huge Lynyrd Skynyrd fan, and lover of all things guitar. I am very excited to help you reach your full guitaring potential! Nothing is more fulfilling than helping another guitarist experience that "AHA" moment (you know what I'm talking about) - it's that feeling of being completely intune with your guitar and nobody can distract you from it.
A little bit about my resume - I have been performing professionally for since 2009 and have performed in acts that opened up for large country music artists such as Lee Brice, Cole Swindell, Craig Morgan, and Colt Ford
My favorite genres to play are Southern Rock, Classic Rock, and Blues Rock.